Writers' Wives
In recent weeks we've been treated to two spousal accounts of what it is to live with a novelist. There's this, from Deborah Orr (wife to Booker shortlisted Will Self) and now these comments from Ian Rankin's wife that, during the most trying period of each novel's creation, the role of his family is "Chiefly… trying to get out from under his feet… it's sort of staying out of his way while he gets on with it."
This sounds like a pretty good deal: having the kids ushered out of your way so you can live fully in the world of the novel? Having the ability to work early, late – whenever – because there's always someone to adjust the familial thermostat? God yes, bring it on.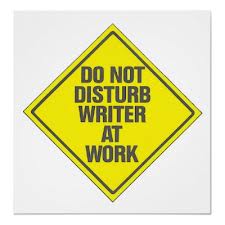 Or…is this just something for the boys? I only ask because, as a female writer with kids, my days are topped-and-tailed at the school gate (and by 'tailed', I mean 'I can't work beyond 3.15 without organising childcare'). If I get the urge to write outside these times, it is usually bought at the cost of extra child-hours in front of the telly which, given the geography of our house, means that I work to a soundtrack of Buffy the Vampire Slayer. If I hit a crucial part of the novel at the start of the school holidays, then it's boxing and coxing (and a hefty measure of frustration). I have recently had to ban the kids from entering my writing room (a move which feels comfortably Self-ish), but still find my Special Orange Pens and Editing Pencils scattered over the house after one of their guerilla raids into my territory.
Yes! I have Special Orange Pens. They look like this…
These are my Editing Pencils…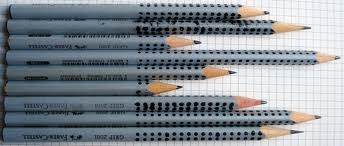 And that's just the logistical stuff. Unlike those admirably intense male authors, I don't feel I can inhabit the world of my novel on a constant basis. I'm the one who remembers all the teeny tiny details which make things work around here; it's hard to live on a different plane when the milkman needs paying. This isn't, by the way, because I'm married to a bastard. Far from it; he is astonishingly supportive and, though he may have a terrible memory for detail, he gets the ironing done, cooks a mean lasagne and earns the kind of regular wage which makes it possible for me to earn my irregular one.
Nor do I resent the time I spend with my kids. They are Top Lads, and – if I weren't really quite protective of their privacy – I would now bore you with all sorts of pictures of them, and funny stories.
I don't resent them, but nor do I have the luxury of being a tortured artist – I really, really don't, and neither do any of the mother / writers I know. As for the boys…well, there absolutely are male authors out there who juggle childcare and writing. I know they do, because I watch them tweet about it; they cycle the kids to school each morning, come back, make a cuppa and get down to work. When the kids are sick, the writing grinds to a halt.
So I'm not arguing that men don't do what I do; I'm suggesting that women rarely do what Will Self, Ian Rankin et al can: shut out the external noise and live in a world of their own making, the mundane day-to-day of family life going on without them.
Am I wrong about this? I can't tell you how much I'd love to be wrong.
Counter-arguments joyfully received below.