Red Prose Day
I've been trying to decide how I could contribute to this year's Red Nose Day – and I've come up with an idea I'm really excited about; it's a plan which will benefit Comic Relief and help out an unpublished writer into the bargain.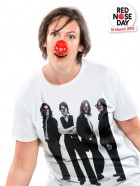 Here's the deal: on Red Nose Day (Friday, March 15th), writers can bid in a Twitter auction for an editorial report on their unpublished novel. I'll read your first 10,000 words and send you written feedback which will cover the novel's strengths, as well as suggesting ways in which it could be made even more compelling. I'll also offer a phone consultation afterwards, at a time which suits you, to chat through any issues you'd like to cover in more detail.
A decent literary consultancy would charge upwards of £180 for its editorial feedback. I've signed up to the #twittermillion project with the ever-lovely Clare Balding, and promised to raise at least £50 – so I hope the winning bidder will be getting something of a bargain, too.
If you'd like to join in, just tweet your bid to @shelleywriter between 11 a.m. and 2 p.m. on Friday, March 15th. If you've got any questions beforehand, just tweet them too.
Comic Relief is a brilliant organisation, committed to creating 'a just world free from poverty'. You can read about some of its work here. And if you don't fancy bidding for the editorial report but would still like to contribute, my fundraising page is here.