Life! Death! Prizes!
Steve May is a very good bloke and a cracking writer. I first met him on a 'second drafts' course at the Lumb Bank Arvon centre, where he and his wife Caron were centre directors. All of us on that course were deep into our manuscripts, all ambitious for publication. On the first night we gathered in the lounge, sizing each other up: who would be championed by the visiting editor? Who would hog the communal wine? Who'd retire to the larder to cry halfway through dinner one night? Every one of these things did happen, in fact; I'm sure it's not atypical on an Arvon course. I'll muster a little (uncharacteristic) discretion and draw a veil over the identities of the people involved.
Suffice to say that we were very invested. Steve empathised with this; his own first novel, TAG, had just gone out to publishers and the first responses were starting to come in. TAG went on to be published by Cinnamon Press, was longlisted for Welsh Book of the Year and won the Media Wales Readers' Prize by popular vote.
What I remember from that first meeting is commiserating with him; it must be so tough, I said, to be on tenterhooks, not to know whether your project would succeed or fail. Not really, said Steve, looking off into the middle distance – a sort of literary catalogue model – I've started on the next one now.
That next one was Life! Death! Prizes!, snapped up by Bloomsbury, published today, and already larded with praise by the great and the good. A.L. Kennedy says it's 'raw, funny and heartfelt…a fine achievement,' and Kate Long has called Steve 'the new Nick Hornby'.
I lured him away from his book tour to ask him about the novel.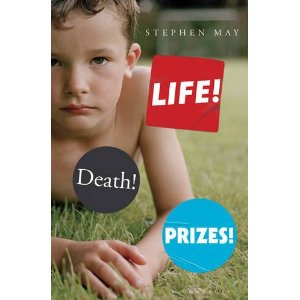 1: Welcome, Steve. Tell us five things about yourself
Father, Son, Husband, Brother, Reader, Writer, innocent bystander. Someone who can't follow rules and who can't someone who can't count up to five. Numbers and rules have always been problematic
2: What can you tell us about Life! Death! Prizes!?
A single mother is killed in a bungled street robbery. Her oldest child (Billy, 19) has to become mother and father to his younger half-brother (Oscar 6). It is, of course, a comedy. Billy tells the story and I hope his voice is funny, angry, vengeful, hopeful, desperate and life-affirming by turns. It's a funny book, but one that is not afraid to nod to the darkness. Love it or hate it, I don't think you'll have read much like it.
3: From the first sentence the reader is pulled into the world of the narrator, Billy; his voice is incredibly strong and very compelling. I'm especially struck by the fine balance you achieve between the tragic circumstances in which Billy finds himself, and the self-possession of his voice – he's no passive victim. How did you go about 'finding' Billy?
Billy emerged from the shadows quite slowly. The original draft was narrated by a 30something, but Billy wouldn't be ignored and eventually took over the whole thing. He was quite a skeletal character at first but he put on muscle over the couple of years of drafting the book. And he's capable of surprises. He certainly surprised me…
4: The ex-teacher in me wants to ask the ex-teacher in you: why two books narrated (in the case of TAG, part-narrated) by young people? What is it about teenagers' voices which is so compelling for you? (And how much have you filched from your students?)
Adolescence is such a strange time. Young people go out onto a gory battlefield before their armour has arrived. You have to brave to get through it. It's no place for cissies. It has that in common with old age I think. All good writing is about paying close attention and the young characters in my two books come from paying attention first and foremost to my own memories and to the part of my adolescent self that moves through me even now (quite a big part as it turns out). And then from paying attention to my children and also, yes, to all the school students I've taught. And then a strange alchemy happens where experience and observation are fused and altered and turned into something new. That alchemical process is imagination I guess.
5: TAG was published by Cinnamon, a small independent press, and Life! Death! Prizes! by Bloomsbury (a huge independent publisher). How different has the process been, this time round?
I'm very grateful to Cinnamon Press. They took a chance when no one else would. And they do wonders with no resources. I didn't get edited very much then however and this time Helen Garnons-Williams at Bloomsbury has been very strict with me. Such a relief. And you do know that with Bloomsbury you're at the centre of a very professional, very committed team. I'm the only amateur in the squad. Oh and they have nutritionists, psychologists, masseuses, personal trainers, string quartets, inhouse confectioners, jesters… whatever it takes to coax out the best work from an author…
6: Somebody once told me you can tell a lot about a writer when you know who they're jealous of. So – which writer(s) are you most jealous of?
I've never read One Day. And that's pure envy. For a while it seemed that a special One Day Act had been rushed through parliament that meant all rail passengers had to have a copy on them at all times, along with their ticket. Every train I went on everyone was reading it (and I take a lot of trains). I've never read any Harry Potters either. That Jane Rowling seems pretty flukey. I think you can deduce from this that I'm up for selling insane numbers of my books. And you'd be right. I'm ambitious like that. I want readers – lots of them. I've laboured in the dark too long.
7: Recommend a book, please.
Revolution In The Head by Ian Macdonald. You think you know The Beatles records and then you read this and they sound completely different. He committed suicide a few years back and I'm still angry with him for that. I'd have loved to see that erudition applied to other great musicians.
8: What do you wish I'd asked you?
Oh that's hard… You could have asked why it took me so long to get started (I was 43 when my first book came out) though the answer would have been disappointing – laziness, disorganisation, a feeling that writing books wasn't for the likes of me, the ten years I spent off my face…