Free Nelson Mandela! (and other arguments for equal marriage)
My mom brought me something fabulous the other day, a relic of my past she'd found when going through a box of old letters. Here it is: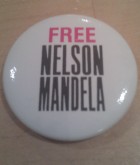 It's a badge I wore pinned to the lapels of a large and shabby secondhand coat towards the end of the eighties. In common with many (but not enough) British people at the time, I opposed Apartheid – a particularly sharp issue for me, born in Cape Town to a South African mom. I won't claim that I was an activist; what I did was pretty milk-and-water. I boycotted Barclays and Del Monte. I wrote a letter to my (Tory) M.P. opposing (Tory) policy on Apartheid. When we met at his surgery, he patiently explained to me that I didn't have the first idea what I was talking about.
'Have you ever actually been to South Africa?' he asked.
'I was born there,' I said. 'I told you so in my letter.'
When Mandela was finally freed, I watched his release with my family and friends, our utter bloody joy only partially tempered by ITV interrupting the broadcast with an episode of McCloud.  Recently, in BBC4's exceptional series The World Against Apartheid, I remembered this all over again: how the self-evident injustice of Apartheid was excused and clouded and elided by those who supported it over here – or just didn't care enough to oppose it. I thought about how we look back and see its horror clearly, how we are glad not to have allowed it to pass unprotested (or are ashamed that we did).
Which brings me to equal marriage.
The government is currently holding a consultation into 'equal civil marriage'. It proposes to allow same-sex couples to have civil marriage, in just the same way as heterosexual couples can. It has been opposed with a level of viciousness which takes my breath away.
There are plenty of great arguments to support equal civil marriage. Here's one – from a political conservative, as it happens. And looking at my badge, that relic of student politics, I thought about this: when you glance back from a future in which equal marriage is legal and unremarkable, whose side do you want to have been on? The inequality which currently exists will be seen as barbaric, in the same way in which we now view male-only voting or Apartheid as barbaric.  A change is gonna come, of that I'm certain – and I know whose side I'm on.