Book at Bedtime
I am utterly thrilled to announce that Jubilee has been chosen as a Book at Bedtime on Radio 4, airing from Monday, May 28th. For me this is a piece of particularly good news, because Radio 4 and I have a very close personal relationship; it's been going on for years.
Several places at my fantasy dinner party are taken by Radio 4 stalwarts: Jenni Murray (we are not worthy), the razor-sharp Jane Garvey, and PM's Eddie Mair, who occupies a particular place in my heart. Eddie's funny, and he gets compassionately angry over injustice; you can hear it quite clearly, beating away beneath his journalistic objectivity. Wonderful stuff.
As is true with all relationships, I can't claim to love every aspect of Radio 4. There's You and Yours (aural Daily Mail*), annoyingly on over lunchtime so that I'm kind-of forced to listen to it, and the occasional quiz show which seems to have plucked its contestants through a hole in the space-time continuum:
Contestant: The third movement of Beethoven's Missa Solemnis.
Quizmaster: Correct! In 1962, four loveable moptops released Love Me Do, their first single. The name of the band?
Contestant: Erm…
Voice radio lives in my head, engaging my brain while my body's busy doing mundane things: paying bills, making tea or driving home. But sometimes, what I'm hearing makes me stop everything. A while ago, Tom Stoppard's The Real Thing was broadcast as the Saturday Drama. I'd never encountered it before, and it was instantly and comprehensively transfixing; I didn't move until it was over.
Living in Paris for a year, I could still get Radio 4 on A.M. I remember being in my bedsit on the night that Pip was born (we're onto The Archers now – keep up). In the street below, cars were hooting and people were yelling at each other in a satisfyingly Gallic way, but all I cared about, perched on my sofa bed, was that Phil Archer was about to discover that his first grandchild was named after him. And then they said her name! And then he didn't cotton on! And then they had to tell him! And you could just hear how moved he was! I cried like the proverbial; don't even get me started.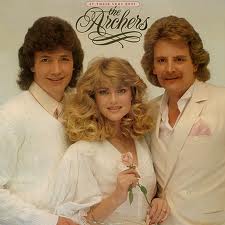 From left: David, Ruth, herdsman Sam
Book at Bedtime seems to engage me in a particularly intimate way; there is a deep comfort to be had in the sound of a human voice telling us a story. The late-night broadcast time means there are minimal distractions (in my case, those distractions have been put to bed hours before), and I can focus on it with less need to rush, more time to reflect.
When I was newly-married, I had to spend three months in Portsmouth on a training course away from my husband. At the weekends I'd drive back home to see him, but Monday to Friday we were apart. I missed him with a fierce, unpragmatic passion. On the first night I retired to bed and switched on the radio for company. I pulled the duvet right up until my poor, tragic eyes were peeking out over the top of it, and listened to Book at Bedtime. They were doing Barbara Trapido's Brother of the More Famous Jack. Bloody hell, it was good. By night two I was gripped. By night three I'd almost forgotten how appallingly hard-done-by I was.
It seems amazing that Jubilee might enter other people's heads while they're cleaning their teeth, or washing up, or going to bed in a strop. I am proud and excited like nobody's business, and I cannot wait to hear it.
*I couldn't bear to link it. Sorry.