blah blah Proust
I experienced a strange little slap of memory today. I stood in my chilly bedroom, in a town where the floodwaters are still receding, against a soundscape of my kids gently carping at each other. I spritzed a neckful of a cologne I hadn't worn for years and – bam! – just like that it was Italy, summer 1990, and I was trailing knackered round Sienna on honeymoon, stopping at every available café to eat and read (me: Germaine Greer's The Madwoman's Underclothes. Him: Tom Wolfe's The New Journalism). I wasn't going to have kids, or be a teacher, or do more than half the domestic labour. I sported a perm. I wore outsized earrings in the shape of daisies, and a cologne I'd buy again, twenty-three-and-a-half years later, long after I'd done every one of the things I swore I'd never do.
Me on honeymoon: Germaine Greer, Siena and perm present and correct. Earrings concealed by perm.
I called it a strange slap of memory, but of course it's not strange at all. It's commonplace (blah blah limbic system, blah blah hippocampus etc) and writing about it is commonplace too (blah blah Proust). For all that, it caught me broadsides. You could chronicle my life in perfume: Charlie, Blue Grass, Anaïs Anaïs, Body Shop White Musk – I'm getting emotional just thinking about it. And those other scents: I don't think it would be madeleines for me. I think it might be Boots Country Born hair gel, a Swarfega concoction I used by the handful in my teenage years to support the kind of eighties hairstyle for which there is now no reasonable excuse.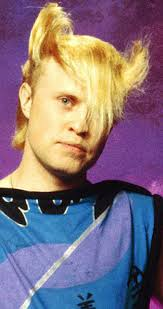 You can't get Country Born any more, but one sniff and it would be a Saturday night in 1984. I'd have spent the day working the floor at Milwards in High Wycombe, eight hours in a fug of other people's feet for a brown envelope weighing in at just shy of nine quid. I'd spend it two hours later in the Falcon on Between The Sheets cocktails, and expend all my energies, in that pre-Greer era, hoping that the boy I fancied would fancy me back.
Country Born hair gel, and everything is possible because it hasn't happened yet. Country Born hair gel and forty-seven is too far away to even imagine.